CertaPro Painters of Arlington, VA
AREAS SERVED:
CertaPro Painters® of Arlington, VA is pleased to provide the best house painting to your specific neighborhood in and around Falls Church. We service the following areas:
Connect on Social Media:
Our Team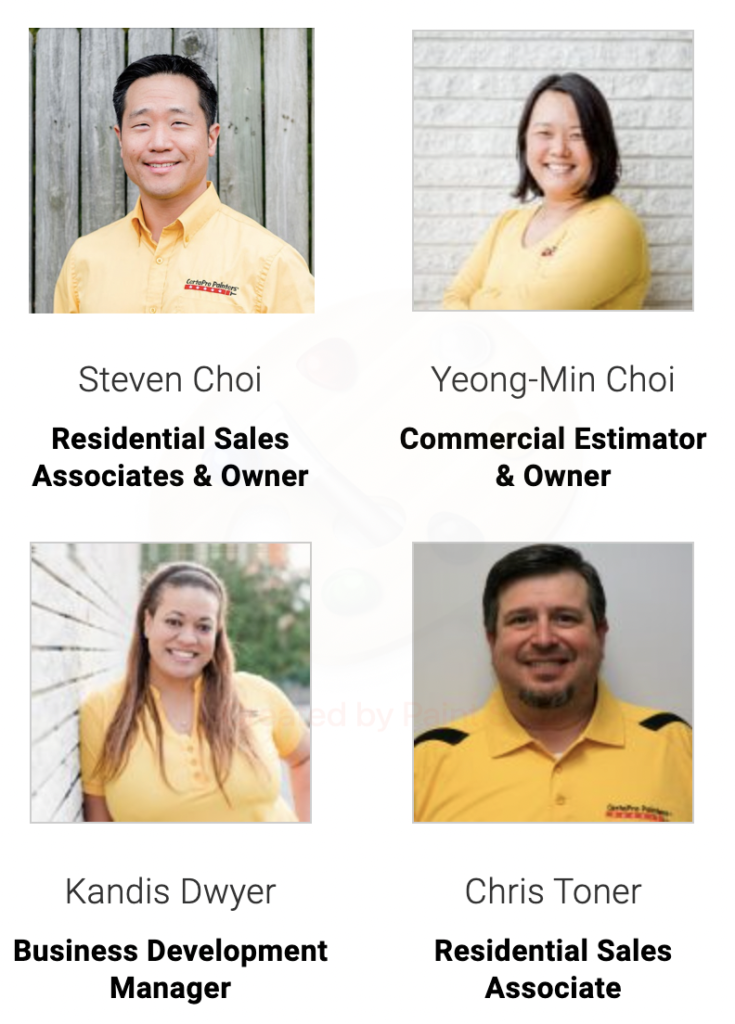 How to Hire a Painter
Painting your home, whether interior or exterior, is a big job. Professionals are happy to help with the massive undertaking. Hiring a pro can be just as intimidating. Bringing in a professional painter will ensure you end up with a high-quality job you are happy with. What should you know going in? Here's how to.
Read the full article.
A few of our most recent client reviews:
We were delighted from beginning to end. Steven came to our house to give us a quote and was thorough as always, pointing out things we hadn't even noticed. We received an accurate and reasonable quote, and when the service days arrived, Wilbert and his team showed up and did a wonderful job. They were pleasant and respectful while they were here and the work was excellent. Our house looks great and we can't recommend more highly. Thank you all!!
Tracy & Jay H. | Arlington, VA
May 12, 2021
Love CertaPro! This is the 3rd time CertaPro has worked on our home. Cost competitive, great service, timely and efficient, and a very dedicated and friendly crew. Highly recommend CertaPro!
Theresas S. | Arlington, VA
May 12, 2021
Attention to detail. Excellent painters!
Molly W. | Arlington, VA
May 9, 2021
CertaPro owner listened to me about my thoughts, added pertinent details and options, and overall presented a quite credible plan.
Shirl R. | Arlington, VA
April 26, 2021
CertaPro came in and took over the job so fast that we were all impressed. My daughter is so happy to have a paint color worthy of a teen. I'm happy to finally have the hallway, bathroom and her bedroom painted to match the rest of the house without having had to take out a loan. Very professional and well done!
Judith R. | Falls Church, VA
April 22, 2021
Appointment was very easy and Chris was receptive to our painting requests, providing useful suggestions.
Michael H. | Annandale, VA
April 19, 2021
He arrived at the house promptly at the appointed time. He gave the estimate on the same day. Very professional, knowledgeable and pleasant to talk with.
Mae G. | Falls Church, VA
April 19, 2021
They were very efficient and did an excellent job. My condo looks so fresh and clean. Great value for the price.
Melani D. | Arlington, VA
April 17, 2021
Efficient process to get an estimate, Chris was knowledgeable about the work that needed to be done, very helpful.
Theresas S. | Arlington, VA
April 10, 2021
CertaPro painters have been my go to painters for over a decade They are competively priced, efficient, neat, and Steven is knowledgable about painting or staining anything. There is no one else I trust with my home but Certapro.
Shirl R. | Arlington, VA
April 9, 2021
Steven and Chris were very knowledgeable and very professional. They took their time in evaluating the extent of the job and how best to approach it. They were extremely detail oriented. They were also easy to reach and very responsive to any questions or concerns. We wanted flooring as well and they arranged for us to consult with a flooring expert who was equally knowledgeable, professional, and detail oriented. The proposal from CertaParo was very detailed and well thought out. Although we are still evaluating our options, we would have total confidence in CertaPro carrying thru our project.
Rick M. | McLean, VA
April 4, 2021